Tree resin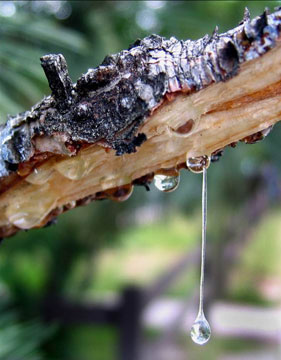 Grown on New Zealand's rugged west coast, the pine tree (Pinus Radiata) is the perfect source for our pure tree rosin. Containing a group of beneficial fatty acids, tree rosin can aid in the natural breakdown of over-production of keratin, which is present in eczema -prone and dry, cracked skin. The rosin allows these cells to shed, promoting the growth of new cells. Tree rosin may also break down collagen, found present in scar tissue, and is a mild astringent, which can help dry out acne spots and cold sores.

It is also interesting to note that bees create propolis by collecting a resinous sap from trees and then mixing it with wax back at the hive. Chemically, propolis is exceedingly complex and contains a rich variety of potent terpenes and benzoic, caffeic, cinnamic, and phenolic acids. It is also high in flavonoids, which by themselves may account for many of the benefits attributed to propolis. Some researchers refer to propolis as a type of flavonoid.

Propolis acts against viruses, which antibiotics do not. A number of medical journal reports have discussed the role of propolis in fighting upper respiratory infections, such as those caused by the common cold and influenza viruses (Focht J, Arzneimittel-Forschung, Aug. 1993;43:921-3). Other investigators have reported that the cinnamic acid extracts of propolis prevent viruses from reproducing, but they worked best when used during the entire infection (Serkedjieva J, Journal of Natural Products, March 1992;55:294-302).

Underpinning many of the benefits of propolis is the fact that some of its components, such as flavonoids and ethanols, function as antioxidant free-radical scavengers. A study published in the Journal of Ethnopharmacology (Jan. 1994;21:9-13) noted that some of the antioxidant phenols in propolis functioned similarly to vitamin E. In another article, researchers described that propolis had anti-inflammatory properties and that it could also prevent blood clots (Drugs Under Experimental & Clinical Research, 1993; 19:197-203).