Skin Balm Testimonials
Over the years we have received many personal accounts of how our skin balm has helped others. Now that we have a brand new website, we are trying to gather those testimonials. If you have an experience you would like to share, please contact us.

Jump to a certain condition below

NOTE: ALL TESTIMONIALS ON THIS PAGE ARE FROM USING OUR SKIN BALM
"I am writing to express my amazement at how wonderful your product is! My daughter developed eczema at around six weeks of age. Her cheeks were dry, crusty, itchy and weepy. The eczema spread around the body and seemed to be covering everywhere! As first time parents we were really concerned. We visited the doctor and got lots of moisturisers and hydrocortisone cream. The moisturisers from the doctor made it worse and the hydrocortisone cleared it up but it would return in a few days and we could not continue using it as often as we would have needed.
So I searched the internet and found Pot of Gold skin balm. I liked that it was a New Zealand product and seemed very gentle and natural. I was very excited to receive it as I was hoping the before and after pictures I had seen on the website would be true for my little girl too! Thankfully within a day I saw improvements. It softened the skin and prevented the crustiness and weeping. Since starting it she has had no weeping. Her face is considerably better and in some patches the eczema is gone.
I was so happy the product worked! I am a convert and am spreading the news of our success to other mums and eczema sufferers. It really did relieve more than just the eczema - it relieved the stress everyone felt about the problem and made my baby so much happier! Thanks so much!
Attached are some photos of the improvement!"
Jo
Auckland
"My Daughter has suffered from bad skin problems since she was born ranging from baby pimples to severe eczema. I have tried so many creams and remedies; however, none of them came close to such great healing than Pot of Gold. This product is amazing and I highly recommend it."

Luana
Kapiti coast
"Wow! We have been using this cream on my 13-month-old daughter for five days now and there is a huge improvement, she's had eczema all over her body since she was born and we had an eczema nurse visit us every week because it was so bad. None of the creams or bandages that she gave us ever worked, when my sister in-law showed me this website I had to buy some to try. We got the cream in the afternoon and put the Pot of Gold on her face and arms before bedtime. When she woke up the next morning her face was still red and dry but by 11am after applying the cream again her eczema was all gone. I was so happy that I almost cried. Three days after taking the pictures it's looking even better - thank you so much!"

Chantel
Auckland
"I purchased a sample pot of Pot of Gold and used it on my four-month-old's tummy and back. Before this she was very itchy with raised, red, dry, scaly skin. After just over a week of using this, her skin is no longer dry and rough. The redness is mostly gone and she is much happier not scratching all the time! I'm looking forward to trying it on my two-year-old's eczema too!"
Michelle - mum to Stella, four months, and Jessamie, two years.
Auckland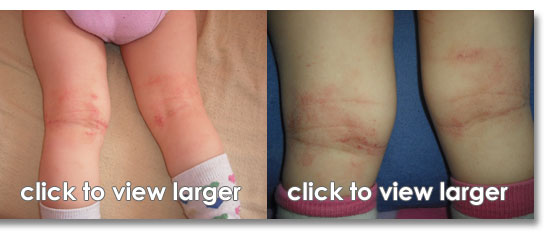 Child Eczema
"I stumbled across Pot of Gold on TradeMe last week and loved the fact I could sample it first, without having to outlay over $20, although that amount can easily build up while trying hydrocortisone, alpha keri moisturiser etc. None of these really worked and I didn't like the harshness of hydrocortisone on my two-year-old girl.
I've noticed a huge difference in the texture of her skin, it was so dry and scaly before, but now feels like the rest of her body, with a tinge of pinkness still, and after the scratches heal it will be much better.
I can't wait to try it out on other things that arise, such as burns, scars etc."

Sheree
Invercargill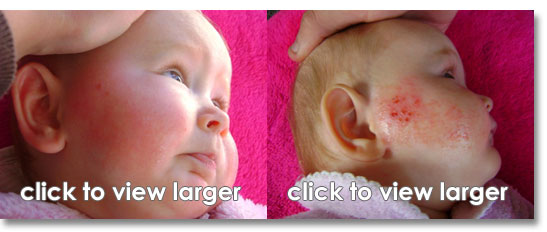 Infant Eczema
"I've tried so many things on baby's face and nothing has worked till I tried Pot of Gold. Her face is clear after seven days and I can use it on all of us. I am so glad I tried it. I will definitely be ordering more."

Nicole
Hamilton
"I bought your Pot of Gold skin balm last weekend and have just been using it for a little over 3 days now.
The results are amazing. My 5 month old had eczema really bad all over her face. I had many comments from strangers telling me how bad it was. After only using it for 2 days there was already a remarkable difference.
Thank you so much for this amazing balm."
Gemma
Mount Maunagnui



Infant Eczema
"My eight-month-old daughter has fairly mild eczema, but lots of it. We've tried all kinds of creams (Aqueous, Hydrocortisone, Alpha Keri oil) but nothing would shift it. I ordered a 15g pot from you last week and it's been awesome! I only tried it on one spot (the worst patch I could find - on her leg) and it cleared it within three days. I'll be putting it all over from now on. The photos I've attached are taken before, 24 hours later, and then after three days. Thank you so much!"

Charlotte
Tauranga




Infant Eczema
"I have attached pictures of my daughter's neck rash (the doctor was unsure if it was also eczema) and her eczema on her back before and after using Pot of Gold balm. The neck rash cleared after only two days of using the balm, leaving only a slight discoloration. The rash on her back is improving every day. The main bonus for me is that she is no longer itchy, which means that she sleeps for longer periods - wonderful!
I am amazed at how quickly this balm took effect and super impressed with the results. I'm sure the eczema on her back will continue to improve; I imagine it has taken longer due to the fact that she rolls over onto her back almost immediately after I have put it on and wipes most of it off! Great product, thanks!"

Sarah and Evie
Waiouru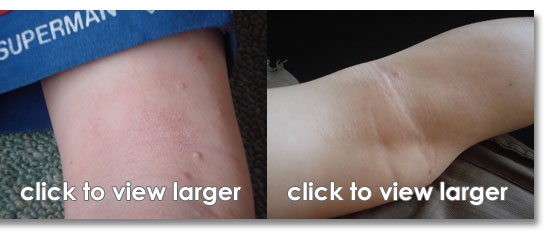 Child Eczema
"I heard about your product for our son's eczema through a friend and was interested in trying it after hearing of their eczema success with Pot of Gold. We have been using it behind Seb's knees for about one week now and the difference is incredible. It didn't show improvement straight away but instead took a few days of applications before the skin started looking and feeling smoother and much less angry and red. We had to keep remembering to apply it at least twice a day so kept it beside his bed as our reminder. Seb is a much happier little boy (four years old) and it has shown me just how much he was worried about his eczema because he's genuinely relieved that Pot of Gold seems to be working. Maybe he'll be able to swim in the sea this summer after all and not have to be content with looking for crabs in the rock pools! Thanks for your help and also for creating such a wonderful product.
I just wanted to tell you - and this probably should be added to my testimonial - that on the weekend Seb went into the sea voluntarily, running in and out up to his waist, with the biggest grin on his face! It was wonderful to see and all due to your product. So thanks again, it really was such a special thing to see him able to do that."
Katie
Wellington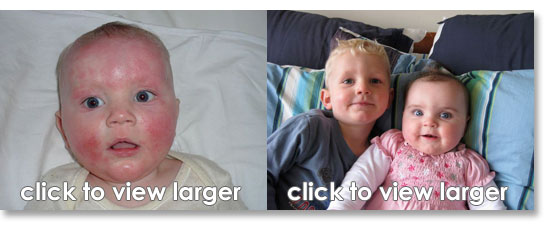 Infant Eczema
"Our son, James suffered Eczema from an early age. Our Dr put him on many different creams etc and nothing really 'fixed' his face. His face would always come out red and burning and very dry. When our daughter (Neve) arrived with the same problems, i discovered Pot of Gold skin balm through my mother in law. I am so impressed with the results and have even got my husband to use it on his hands (Dermatitis) / face and shaving rash!! The baby balm
is great too - fantastic on nappy rash! Thanks again."

Sarah
Auckland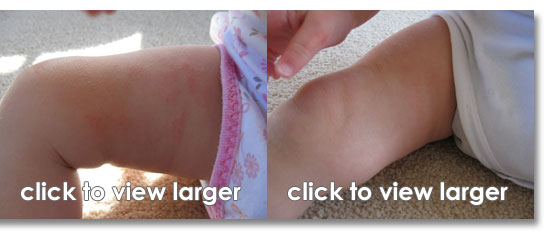 Infant Eczema
"After doing an internet search I found your product and bought a trial test of the Pot of Gold skin balm for my 20-month-old daughter who suffers from eczema, particularly on her legs. I have tried all sorts of other products, but yours is the ONLY one that has actually worked, which meant I could stop using hydrocortisone cream on her, which has been fantastic! I only wish I had found this product sooner, and recommend it to any mums out there who have children with skin prone to eczema."
Rosemary
Hamilton



Infant Eczema
"Thank you so much for letting us purchase Pot of Gold. It has been a godsend to see our five-month-old daughter's eczema improve in such a small space of time after trying numerous creams and lotions which didn't seem to do the trick. As you can see via the photos the redness has disappeared which started clearing only two days later. Our four-year-old son had eczema which he grew out of by two but we were unable to control it as much as we have done with our little girl by using Pot of Gold. Thank you so much."

Blair and Hayley
Porirua

"One of my twin boys had really bad cradle cap and then developed a terrible rash on his face that the doctor said was infant acne. My midwife told me about Pot of Gold and I ordered a sample pot, which arrived the next day. I started using it straight away and noticed the improvement considerably, after three days it was very much improved and after one week all cleared up. My other boy has started to get mild acne spots on his face so I have started using it on him too.
My baby is back to being beautiful and clear-skinned. Thanks so much!"

Claire
Christchurch
"My nine-month-old daughter developed eczema; her skin had always been sensitive and prone to dryness, but it continued to get worse. At its worst it was red and raised and bumpy, and felt very dry. Most of her body was affected. Fortunately it hadn't quite got to the itchy stage, but it was on its way. Luckily after searching the internet for natural eczema creams I came across Pot of Gold. After less then a week her skin was much improved; the redness and bumps had gone and there was no flakiness. Her skin felt lovely and soft. Now after continual use she barely has eczema, and any flare-ups are now easily managed with this balm. I am also very glad that this product is safe and natural, as I would never put chemicals or steroids on my baby's skin. Thank you very much, I shall recommend to all!"

Jessica
Kaiwaka

"The term "testimonial" sounds so forced. This isn't a testimonial, this is me wanting to share with as many people as I can the benefits of this amazing product. My 7-month-old daughter has had reccurring eczema on her face for 4 months, we have tried everything! The only improvement we have ever seen was when, out of desperation, we have used a steroid cream. Even then, two days later the eczema would return. These photos are of the amazing difference to her skin after only two applications, over a 12 hour period! We continued to use the product for another 3 days. There is no sign of the eczema at all! In fact she now has the most gorgeous skin! I have started using the product an everything I can think of. It is great for itchy bites too.
Thank you so much to the makers of this great product, you have saved us, from possibly years of steroid use."

Regan
Auckland
"Wow, what can I say? This is an awesome product! I've renamed it 'miracle in a jar'. I only received it yesterday morning but by last night there was a huge improvement in my baby boy's eczema and this morning he woke up with none of the normal red blotchy dry skin on his face that he wakes up with every morning. Absolutely amazing, thank you so much."

Katie S
Auckland
"I started using Pot of Gold for my daughter's eczema ten days ago and already there is vast improvement. Her skin looks and feels a lot healthier and is not so red looking. Thanks a lot!"

Linda
Laingholm, Auckland
"I just wanted to write to say a huge thanks for your amazing product! My six-month-old had developed eczema on his face, neck and upper chest and the usual prescribed medications were not doing a thing. After only a day his skin started looking better and now after using Pot of Gold skin balm daily for a week ALL his eczema is gone! Thank you, thank you, thank you! I've also used it on a few dry skin spots of my own that I've tried all sorts of creams on and they cleared up almost instantly! Many thanks."

Bronwyn Brooker
Timaru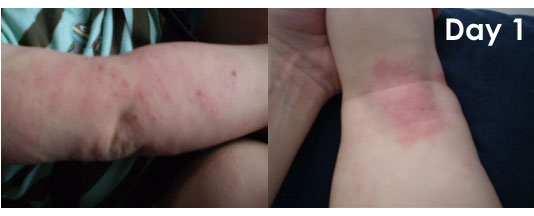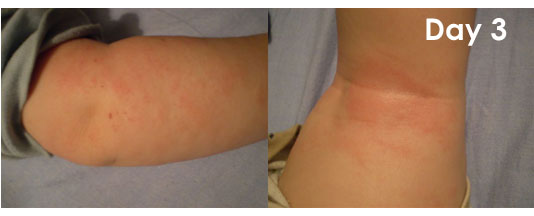 Infant eczema
"Thank you so much. My son is covered in eczema and within three days behind his knees were no longer weepy and his arms had cleared and weren't dry and rough, his stomach is almost clear and he doesn't wake scratching in the middle of the night."

Tracy Henderson
Christchurch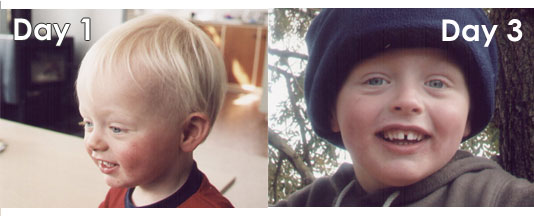 Child eczema
"I thought I would give it a go after hearing from someone who bought the product that it seemed to help a lot (and not just buying it based on marketing spin). From what she had said it was about three days that it started clearing up for her so I was rather shocked that my son's skin has pretty much fully cleared up in 2-3 days, which is really fast compared to the creams that the doctor has given me and in some cases not worked at all. So you have a great product and I hope you get the word out."

Marisa Trevena
Fielding
Child eczema
"Wow what a product you have here, it truly works magic. I bought a small jar of this magic for my grandson recently who had the most terrible eczema on his stomach right down to his upper thighs and now he has been cured 100%. I also have told many people about this product and as recently as today, I have brought quite a few bottles of this gold for others within New Zealand with 100% cured ratings. Better than any prescription that you can get from a doctor or chemist. Natural products work for sure, I am living proof of that. My hands were so bad with eczema that my hands were raw - no products that the doctor prescribed worked on me but Pot of Gold worked.
So please keep making this product, it's like being a kid again when things we bought worked the first time!"

M. Poua
Auckland
Infant eczema
"We first noticed patches of eczema on Max's body when he was about 10 weeks old; by 12 weeks he had it on over 70% of his body. Our GP prescribed Aquaris cream for washing and moisturising. When we put it on his skin Max would cry and squirm, and his skin became very red and hot to touch. We persisted for two days, but after looking at the ingredients in Aquaris cream and doing some internet research we decided to stop using the cream. Whilst researching what we could use to help Max, my husband found Pot of Gold skin balm. We started using Pot of Gold straight away, within days we noticed a huge difference, and now almost two months later, Max's skin is 100% better. He still has a few patches here and there, but we have it under control and Max is a much happier little boy."

Toni, Graham and Max
Auckland
Child eczema
"This balm is amazing, my son's skin is the best I have seen it in a long time. I wish I had taken photos of the before and after! You definitely need to market this worldwide, and have it in chemists. I would never have known that searching eczema on the TradeMe site would have produced a product that works!"

Alice Tapp, Escape Beauty Therapy
Wellington
Child eczema
"My son had a rash that was growing and getting worse and nothing seemed to help it. I did a Google search to find an organic solution and found you. We applied the Pot of Gold on average once a day for less than two weeks and he is completely healed. We saw a difference after the first day and some days even forgot to apply more. It's fantastic and I'm telling everyone about it."

Islay

Child eczema
"Pot of Gold skin balm is an amazing product! It works like magic for my son who had eczema since he was born. After applying a few pottles, his eczema has greatly improved. I'm now sharing the product with all the friends and relatives of mine and will send a bottle or two to those in need as a gift. I just recommended it to my aunt in Singapore. A lot of Hong Kong people are now suffering from all kind of skin problems due to air pollution, especially babies. Thanks so much that you're selling this useful product worldwide online. It's been of great help to us."
Louisa
Hong Kong
Infant eczema
"Wow, what an amazing product! I have tried every cream possible to calm my son's dribble rash/eczema which turned raw and nothing has been anywhere near as successful as this! I can't believe it, after using the skin balm for just one day, it's almost completely gone. What a dream come true, no more shopping around and wasting money on useless lotions. My husband is wrapped!"
Kim Bayes
Hibiscus coast
Child eczema
"The balm has really worked on my daughter. We recently moved over from Samoa and before we came over, her skin was nice and smooth. Unfortunately, due to the weather change, she was diagnosed with eczema and I've been trying everything to help her. I've bought all kinds of moisturisers, soaps, bathing oil and creams to try and make it go away and it wouldn't. A couple of weeks ago, I browsed the internet for any other medicines and came across your product. I ordered a sample and fortunately it worked on her skin after applying it for less than a week. Now, after two weeks, her eczema has completely vanished and finally she can get a good sleep at night without scratching 24/7. Her skin looks nice and smooth like before we moved over and I am very happy with the results."
Sylveria Andersen
Clendon
Child eczema
"Kia ora, Pot of Gold is exactly that, thank you so much! I will definitely be buying more. My son's eczema cleared up over two days, which is amazing because nothing that I have received from the doctor has done that ever. Ma Te Atua!"
New Zealand
Infant eczema
"I have tried everything to fix my baby's eczema and I know it's a mixture of factors which contribute but all I wanted was a cream which healed and protected and I've found it! Pot of Gold is a true miracle and I wish more people wouldn't give in so easily to the temptation of using products full of petrochemicals like every product found in a pharmacy. Thanks Woody and his family. You are wonderful."
Sarah Curro
Victoria
Australia
Child eczema
"My four-year-old grandson has had eczema on his arms in the elbow crease since he was a baby. He constantly scratches it, especially while sleeping, and it is always a red and angry patch. Each year it gradually worsened until it was often bleeding. It also seemed to be spreading to his shoulders and back which were also itchy. My daughter had tried every remedy, sought professional help, nothing worked. Whilst in New Zealand on holiday earlier this year we were lucky enough to come across Pot of Gold balm. Within days, the angry soreness had disappeared and by the end of our fortnight's holiday all that remained were slight raised spots. A major miracle. I am recommending it to everyone and only wish it were on sale in Australia."
Australia
Infant eczema
"I have been told so many things about my baby's eczema and what I should and should not use. After buying your product from Woody in Christchurch, I had her cleared up in a little over seven days. This is a fantastic gift you have given our baby, and is also great on her nappy rash. Thank you."
Happy mother and baby
Riccarton
Christchurch
Infant eczema
"My baby's eczema had gotten so bad around her neck that it looked like she had a thick weeping, red necklace on. The doctor prescribed all kinds of stuff that just made it worse. Honestly, I used this product on my baby for three days and it almost disappeared before my eyes. This stuff is so good its freaky and I am so thankful that I have finally found something that works on my baby. I am going to tell everyone about Pot of Gold. Thank you!"
Kylie Wilson
Hamilton
Keratosis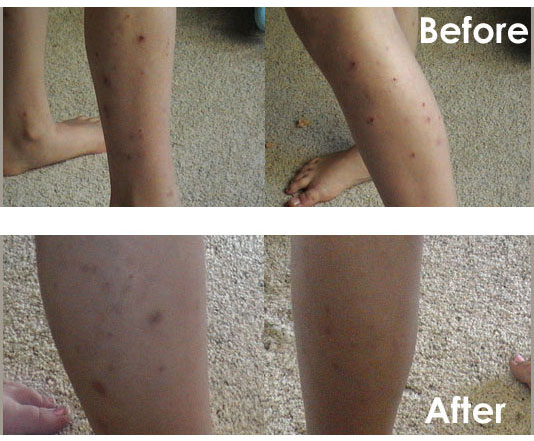 keratosis pilaris (also know as follicular keratosis)
"My daughter has suffered for seven years now with keratosis pilaris (also know as follicular keratosis) which itch like crazy 24/7. In the past seven years, we have seen numerous doctors, specialists and dermatologists who all prescribe harsh steroid treatments and anti-histamine pills, all to no avail. We have been absolutely desperate to find something that helps and I believe now we have finally found it. She is no longer tearing holes in her skin and the sores have healed. Our next step is to live in hope that Pot of Gold reduces her scarring - looking good so far! We are delighted to say we were able to take our girl shopping for togs as she has her confidence back and wants to go swimming again. I can't thank you enough for giving her a new lease on life and in return, I am recommending your product to everyone."
D Cornelissen
Te Awamutu
"To James and the team at Pot of Gold. When I counted my blessings today, I counted you twice! Thank you so much for making your Pot of Gold balm. I've shared my "before and after shots" because I just can't believe how amazing my hands feel. And the photos say it all.
For years I've suffered from dermatitis and nothing has worked. I've been to specialists and have tried the strongest of steroid creams, to no avail. A few months ago I had a bad flare-up and the doctors thought it was infected but antibiotics made no difference at all. I've changed my diet. Worn gloves. Changed washing powder, hand soap, body wash, moisturiser and all with no effect. My knuckles bled, my fingers cracked and split in every place including on the tips of my fingers and some days throbbed so bad I couldn't even do the simplest task without sheer agony!
Then, someone was telling me about this fabulous cream that they had used on their baby for dribble rash and I was just getting some for a friend. When I read the website it mentioned that it was good for eczema too, so I ordered some for myself. It smelled good. It smelled natural – not sure if it would work but was willing to try.
Within three days I could feel the difference and after five days my skin "looked" different.
After two weeks you wouldn't even know I have dermatitis! WOW!!! It's fabulous. My husband is thrilled too because my hands are smooth again. I also have two patches of bad skin where varicose veins have broken the skin and the steroid creams don't work on that, so I've started using the cream there too, and already the skin has settled and stopped itching like it was. Watch this space for an update on that.
My nine-year-old son has Coeliac's disease and has eczema related to that, so we are about to start using it on him. I'll let you know how it goes! I can't thank you enough for the difference this has made to everyday life.
My skin looks so different, feels so different, it isn't cracked, it doesn't hurt and it has 98% healed.
Please feel free to use this testimony to share with anyone who needs to know how fabulous your balm is and I'll keep in touch with how it goes with my son's skin.
Thanks again to you and your team."
Tracey
Orewa, Auckland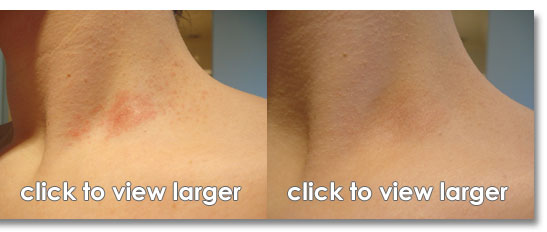 Eczema
"I keep a jar of Pot of Gold around for everyday use on my daughter (occasional eczema and cradle cap) but I was thrilled to remember it works on everyone when I got another reaction from wearing cheap jewellery. My skin is not very friendly towards nickel based metals, which is a real pain as it rules out any cheap and fun belt buckles, watches, rings and necklaces, sadly this doesn't stop me wearing these things all the time. Not sure why I haven't used Pot of Gold in the past, but it worked so well next time I want to wear nickel based costume jewellery I can, knowing that Pot of Gold will swiftly take care of any reactions my skin can throw at me."
Rachel
Blenheim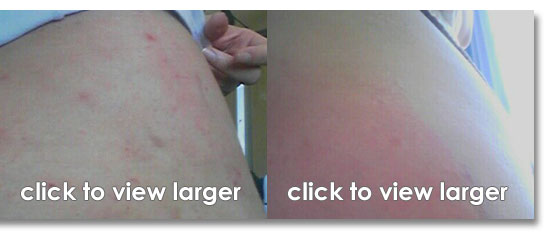 Eczema
"I have had eczema ever since I was a baby and it usually only comes up every now and again, but lately it has been up all over my body (and face). Anyone with eczema can understand how bad this can be, itchy, dry cracked skin, rashes, bumps and more. So you can only imagine how happy (and amazed) I was when this product worked its wonders on my skin just like it has done for so many others. My photos I have attached is before and then two days later. Thank you so much and I will be a repeat customer!"
Rory
Nelson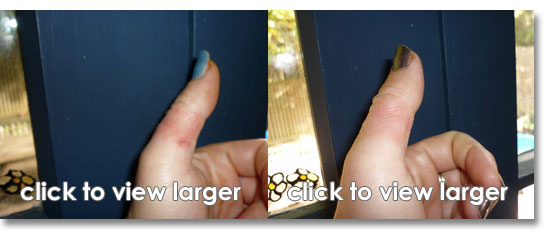 Eczema
"I have had dermatitis and eczema-like conditions for at least the last 25 years, usually using pharmacy-only medication/ointments. Whilst these work very fast I have wanted to move away from pharmaceuticals and toward natural based products wherever possible.
In this latest case I had had a painful/burning bout of dermatitis on my thumb for approximately two weeks and had been "messing around" with every other natural remedy in my cabinet when a friend recommended I try Pot of Gold.
I applied it at least twice a day and sometimes up to three or four times as I wash my hands a lot while preparing food. Within a day the irritation had eased and within a week obvious healing was taking place and the redness/inflammation was almost gone.
Thanks for a wonderful product."

Mandy
Nelson

"I have been fighting eczema all my life and I have finally found a product that actually agrees with my skin. Thank you so much for your awesome eczema balm.
We just wanted to congratulate and thank you for a terrific product. We have tried so many things for our eight-month-old son's eczema with no success, so were a little skeptical when we saw Pot of Gold at the Arts Centre in Christchurch. The photos on the stand looked so much like our issue we thought we'd risk our money for a 15g jar and hoped we weren't getting 'snake oil' - and have been amazed!
Our lad's skin is looking better than it has ever been in under a week and consequently everyone is happier, healthier and better rested. We've been back for a bigger tub and will be back for more I'm sure! No chemicals and a wonderful result - kudos to you all!"

Many thanks
Damien & Kirsty
Christchurch

"I have eczema on both of my arms, irritated by woollen clothes in the winter. My legs are also very dry and if I don't use anything with mineral oil, it will crack and bleed, no matter how much moisturiser I use. Now that I have been using the Pot of Gold, both my legs and arms are no longer bleeding. What is more amazing too is that I have had a second navel piercing done because the first one did not work. The old piercing oozes after a few months and was even bleeding. So strange that it looks like there is a 'hole' in the area. I've used Bio Oil but it made it worse. I've been using Pot of Gold and not only did it stop the bleeding, the navel piercing healed perfectly.
Also the tattoo on my right inner wrist has never healed properly because it gets rubbed against desks and clothes as I use it. But it is now healing really well.

Pot of Gold can be used everywhere anywhere for anything. Haven't tried it on my pets yet but I am sure I will!"

Bevan
Auckland
"I was a bit sceptical about the claims for your skin balm, but I bought some anyway, hoping it might lessen the itch of a crusty sore (probably ringworm) I'd had for about three years near my right ankle.
I tried it for a couple of nights, then forgot about it. Until a few days later, when I realised my ankle was no longer itchy, and looked a lot less flakey, raw and red.
Figuring it could only be because of the balm, I started using it again daily. And the sore was totally gone within one week!
I wish I'd taken before and after photos to show my friends. I simply didn't believe it could be so effective."
Alan
Christchurch

"I have had eczema psoriasis for many years on my face and have tried many things. No matter what I used it would work for a while and then flare up again, due to the fact that I have sensitive skin. I had gone to skin specialists who just confirmed what it was, and told me to get plenty sun (which is not easy find in Ireland), charged me a fortune and sent me on my way. I met Woody in Christchurch while on holiday and although skeptical at all it said it could do I started using it on the basis of what harm can it do. All I can say is that it truly has worked for me, and I am grateful."

John McCarthy
Republic of Ireland

"I have a chemically caused skin irritation that I have had for almost two years now. My skin gets little blisters then gets very itchy, then dries out and the skin flakes off. The only place I get this condition is on my hands and yes it can be embarrassing. I bought the Pot of Gold after doctors, skin specialists and naturopaths could not offer any relief. I meant to take photos when I first bought it but got excited at the post box and applied it straight away, thinking I would be able to take one later, but within a couple of minutes the itchiness and redness was gone. My symptoms go round and round in a cycle but by using Pot of Gold they are less evident after the first use and all but fixed after a day."

Danni Eggeling
Haast

"I have eczema on both of my arms, irritated by wool in clothes in the winter. My legs are also very dry and if I don't use anything with mineral oil, it will crack and bleed, no matter how much moisturiser I use. Now that I have been using the Pot of Gold, both my legs and arms are no longer bleeding.
What is more amazing is that I have had a second naval piercing done because the first one did not work. The old piercing oozed after a few months and was even bleeding. I've used Bio Oil but it made it worse. I've been using Pot of Gold and not only did it stop the bleeding, the naval piercing healed perfectly.
Pot of Gold has also helped the tattoo on my inner wrist as it never healed properly due to being rubbed against desks and clothes each day. It is now healing really well.
Pot of Gold can be used everywhere, anywhere for anything. Haven't tried it on my pets yet but I am sure I will!"

Bevan Chuang
Auckland

"Love the product. After just one night I started to see a big improvement in my son's eczema.
Thank you very much. After using so many expensive products that didn't work I am so thankful
I bought Pot of Gold."

Diane Edwards
Auckland

"Thanks for the balm, I love it! I had this thick, bright red patch of eczema behind both my ears, some on my scalp and other patches behind my knees, and I tried heaps of stuff to get rid of it. Thanks to your balm, what a relief, I used it once and couldn't believe how quickly the itch disappeared and then the patches. I love that your balm doesn't smell, which is a huge plus because I can use it anytime, anywhere. I have used another remedy that had people looking at me sideways and my (not!) charming friends saying I smelled like a horse, so you can understand how happy I am to use your balm. I look forward to receiving the extra balm I ordered because several members of my whanau need it. Thanks again."

Turia
New Zealand

"For years my husband has suffered from eczema on one of his legs, itching so much he would wake me in the night with his scratching. After using Pot of Gold for a couple of weeks, no eczema, hooray! Thanks Pot of Gold."

Michelle Te Kata
New Zealand
"I suffered from eczema on my neck and after using Pot of Gold for four days, twice a day, the eczema was gone and has never come back. I have also used your product for dry skin on my face which has worked well too. Thank you."

Elodie Di Battista
Lyon
France
"I have suffered from extreme psoriasis for the past five years. It itches and bleeds, and is generally very unpleasant. After using Pot of Gold balm, it does not itch anymore. Which means I scratch at it much less, and therefore, there is less bleeding. The appearance of the psoriasis welts has also improved tremendously. While I doubt the welts will ever disappear completely, Pot of Gold has improved my confidence in my appearance tenfold. And it is plenty cheaper than the pharmacists' Daivobet steroidal ointment which is really bad for your skin. Plus, it's about $40 a pop. With Pot of Gold, I save $10. That's a win in any book!"
Kevin
Sydney, Australia
"I am 35 and have suffered from psoriasis on my scalp for the last year or so, which has left red itchy bald spots and knocked my self esteem. From the first time trying Pot of Gold just once a day at night on the area it has almost completely disappeared after just four days. No other medications or creams have given me such amazing results in such a short time. I'm now trying it as a facial moisturiser and on the soles of my feet which crack something terrible and after two days am noticing the same fast results. Will definitely be keeping Pot of Gold with me all the time. Thank you so much for this wonderful product and I'd happily recommend for anyone to try it."
Robyn,
Palmerston North
"I am 48 and have suffered from psoriasis since I was in my late teens. Luckily it is only on my elbows and knees, but it still looks and feels nasty. My skin has thinned a lot over the years from using all sorts of creams. I was a little skeptical about Pot of Gold but thought it was worth a try. I have just reordered the larger jar because it was so good. My psoriasis has never looked like it does now. I was only using it once a day but plan on using twice a day when I get the larger pot. Pot of Gold takes all the itchiness away and the skin looks white instead of red and scaly. Thank you, great product."
Liz
Clarks Beach
Auckland
"I have had awful itchy and unsightly psoriasis patches on my legs for 12 years which I was very self-conscious of and would never wear shorts or dresses. The itchiness would wake me at night and I would scratch until my skin was raw and bleeding - truly awful. Over the years I have tried the typical steroid cream and a variety of lotions and potions but none were effective. I purchased some Pot of Gold skin balm, applied twice a day, and WOW am I impressed! My psoriasis has never looked better and is 90% gone! For the great price it is I would recommend psoriasis sufferers give this a try - you have nothing to lose and everything to gain."
Kim
Manawatu
"I had a spot of psoriasis on my leg about the size of a 50 cent piece. I applied the natural healing balm Pot of Gold twice a day, morning and night, for five days. I reapplied the ointment again after seven days, morning and night, and I am pleased to say that after six months the psoriasis has not reoccurred."
D J Taylor
Whangaporoa
Hibiscus Coast
"Pot of Gold is a wonderful product for any dry skin disorder, especially psoriasis. I have used it very successfully."
Elaine Garnett
Whangaporoa
Hibiscus coast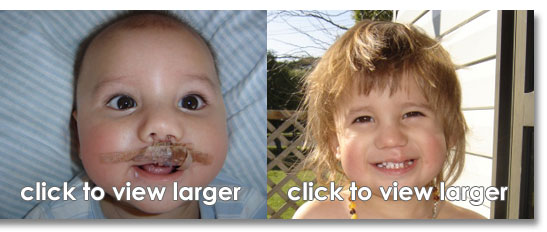 Cleft pellet post-op healing
We have been using the Pot of Gold balm on Josh from six weeks post op (for a cleft palate) every second night and we are continuing. We are seeing such awesome results with it and we're going to see the surgeon next month to discuss a lip revision and I'm sure he will also be impressed with the scar.
The main difference that we have noticed compared to other kids that have not used Pot of Gold is that his scar tissue is a lot less hard - it seems softer and is hardly noticeable.
Thanks so much again for your generous gift to Josh, it was very much appreciated.
Rachael
Auckland
"Awesome stuff! I've only had it a week but it's quickly healed, pimples, sunburn, and bad cradle cap on the baby - I cant believe it! It's amazing, I will be buying some more! I SO recommend this product to everyone for anything! It's truly amazing!"
Melissa Johnson
Motueka

"I just wanted to let you know that I have used your Pot of Gold skin balm before for insect bites, particularly sandfly bites, and it is wonderful. The itching stops immediately and there seems to be an interruption to the after-effects of the bites. I used to itch for weeks and the bites would remain inflamed, but now there is no sign of the bites after the first day.
I am ordering the 50g jar to send to my sons in the US. They are so convenient in that size because you can keep it with you whenever you are outdoors and therefore always have the treatment with you. Thanks again for a great product."

A. Warren
Kaikoura
"My baby has some kind of skin irritation that doctors say is nappy irritation and I have tried many antiseptic creams, nappy rash barrier creams and many other creams and spent hundreds of dollars but nothing worked on my baby. Then fortunately I saw this Pot of Gold for sale on TradeMe and I thought of trying it and it was amazing to see that it worked and it did respond and showed its power in two days and in a week my baby's skin was just perfect. This product is amazing. Honestly, try this out, you will be amazed."
Ashish Maharaj
Auckland
Sensitive skin and eczema

"I have super-sensitive skin and find I react to many lotions and products. I also suffer from eczema, so you can imagine my total happiness when I saw skin improvement after just one day! It is now day three and the progress continues. This product is fantastic, and I highly recommend it to others!"
Maria
New Zealand
"I found this excellent for my son's eczema. It beats steroid creams anytime and much better than 3B cream for sweat/heat rash. Yay, no more sleepless nights for me and so kind to our kid's skin."
New Zealand
"I received a little test pot from your stall in the Art Centre in Christchurch. On taking it home I asked my husband to get a cold sore, which he promptly did, having a cold at the time, so we could try this stuff. He used it three or four times over the following day and by the end of the day the cold sore was gone. We have certainly never had that kind of response from Zovirax."
Naomi Knox
Christchurch
"I personally have found the Pot of Gold product you sell to be fantastic not only on a burn that was on my hand due to getting a henna tattoo but l have also used it as a lip balm due to cracked lips and cold sores. Pot of Gold was very simple to use, and using it on my lips it was incredible. It had the same quality as the costly lip balms that have all those synthetic flavours and scents. I have not had a cold sore since using Pot of Gold so l would totally recommend this to other sufferers."
Colleen Elvey and Mark Cattle
New Plymouth
"I bought a test pot in March at the Hokitika Markets during the Wild Food Festival. I do not have any aspiring photographs for you but I can tell you that it is the first product I have found that stops cold sores in their tracks without damaging my lips! I have run out, having scooped out every remaining ounce out of my little test pot and I look forward to receiving my second Pot of Gold. I am also thrilled to have found a natural product that I can trust to do no harm and some good. Thank you."
Miranda Anderson Hill
Cromwell
"I was just looking at my Pot of Gold this morning and wondering how I was going to get another one when it ran out. Since I bought it, I've used it on an amazing range of ailments, from cold sores to sore feet, and I have to say that it has been everything your father said it was. When I left Fiji to return to the UK I had really sore skin between my toes from wallowing around in water for too long. In fact it was so sore it was uncomfortable to walk, all during the flight I used my Pot of Gold and by the time I got back to the UK it was almost completely cleared up, and my cold sore was completely gone within five days, just like magic! Many thanks."
Jackie
Gloucester shire - UK
Acne and facial discolouration
I can't thank you enough for bringing me this miracle cream it's such a godsend. Your Pot of Gold is amazing, you should call it miracle of all miracles. I received my Pot of Gold and was a bit sceptical as it's in my nature to be. I washed my face then put my cream on morning and night for the last six days sometimes even three times a day, it's amazing after even three days I could see the chemical peel fade and not be so dramatic. The burns that I had after the chemical peel left me with insecurities, shame, and feeling not pretty (but my Pot of Gold, well that has changed my life). I have not used any other creams other than that. My family are amazed at the results and in such a small amount of time. There is still a bit of scarring but in time I'm sure my Pot of Gold will get rid of them, I mean it's only been six days and it's nearly completely all gone.
I have attached before and after photos, the last five are recent (few hours ago), you can see the difference with fading, healing, and overall difference.
Thank you James, words cannot express how much I appreciate you and your cream coming in to my life
Debra Hill
Auckland
"One word - wow! I met Woody at a show in New Plymouth two weeks ago and was desperate for anything to help the acne on my face. After two days I could already see the vast improvement and people commented on how good my skin was looking! I also suffered from dry chapped lips and overnight that changed. I really cannot thank you enough for bringing me this product - I am telling everyone I know about it and will never be without it again!"
Jane Roberts
Wellington
"I have a food allergy which makes my facial skin break out in a red, itchy pimply mess. I end up with reddish scarring on my skin after a bout. Pot of Gold is the only ointment/cream that I have used that gets rid of the scarring. This happens when I eat potatoes and have too much bread. I have been using Pot of Gold for approximately two years now and do not like running out of it. Excellent on my grandchildren's bottoms."
Jane Hay
Kawerau
"Pot of Gold is amazing. In my first testimonial I explained that I had dull red scar tissue from a terrible rash caused by food allergies. It was bright red right around my mouth and chin area going up the sides of my nose. Well, within a couple of days I could see the difference and then after about two weeks of using it morning and night the red scar tissue had gone. I now use it in the morning mixed with my organic face cream and at night after cleansing my face on its own. My skin has never been better. I am in my mid-fifties and have been told by a beautician that I have the facial skin of a 35-year-old, so that has to be a huge plus. Thanks and kindest."
Jane Hay
Kawerau
"I thought you were joking when you said it would put an end to shaving rash, but it's gone after only using Pot of Gold twice. As for the many other uses, you guys are not charging enough. Brilliant, I will definitely buy more."
Ryan
New Zealand
"I was passing through Christchurch on my way to a holiday in Australia and I bought a pottle of your wonderful balm. I had a skin cancer on my forehead which had become too big for burning off and was scheduled for surgical removal when I got home, but by applying your Pot of Gold every day, in three weeks it had gone and the skin in the area was clear. What a truly amazing product!"
New Zealand
"I received one of your free samples recently and wanted to let you know that I am delighted with the results. I have had a red rash/acne type blotch on my face by my nose for months now and nothing I tried would get rid of it. Within a few days of using the balm it cleared up - not completely but is 90% better than before. I also find the balm is excellent for getting rid of pimples. Thanks very much."
Sandra Devlin
Auckland
"I am from New York City, I am 60 years old, and while visiting Christchurch, New Zealand, my family and I met Woody Crow who was selling Pot of Gold skin balm. It looked like good and pure ingredients (he showed us samples he had on hand: bees wax, some kind of New Zealand tree resin, and palm oil) so I decided to try it out. It has been three weeks now that I have been putting this balm on my face every night before bed, and from the first night of using it until now, my skin feels smoother, tighter, and healthier, with a much better skin tone. I feel that I am finally doing something good for my skin. Rather than putting chemicals on my face, the balm gets absorbed into the skin, feeding it healthy ingredients that feel so clean and not greasy. I love it! (I also realize that it is a multi-purpose balm for sunburn, all kinds of skin rashes etc and an all-around household balm for many needs.) James, I hope this all helps, it's all true!"
Gail Healy
New York City
"This is wonderful stuff, I used it on my dog. We have paid hundreds of dollars to the vet to get him some relief for his skin problems. After one week's use I noticed a difference. The 50-cent piece size infected area was less irritated. One week down track the size is a quarter what it was, the hair is growing back, and he is much happier. From the moment I put it on he didn't bite again and when he sees me with the ointment he rolls over so I can put it on. Thanks so much, it also helped my split finger! Would definitely recommend."
New Zealand
"Pot of gold is GREAT. It works on insect bites, heat rash, in fact you name it, it has worked so well for our family, both kids and adults. Everyone should have a pot in their cupboard as it has so many uses. Thanks so much and we will be back for more."
Louise. P
Rangiora
"I have found Pot of Gold a great healer for general skin cuts or sun spots, dry skin and rashes anywhere on the body."
Carol Turner
Te Awamutu
"This stuff is truly great! My son constantly has dry lips and using this product at night before bed has cleared the problem completely! Thank you so much!"
New Zealand
"Wow I am impressed. Only three days using Pot of Gold and my skin complaint is clearing up after six months of suffering. I will be getting more. Thank you."
New Zealand
"A miracle balm. My baby's eczema is going away slowly; prescribed cream doesn't do the job. It also works on my eczema. I made a very good decision to try the balm."
New Zealand
"I bought a wee Pot of Gold and now I would not "bee" without it. Amazing and a brilliant product thank you so much. It has helped my badly cracked feet as well as scars from surgery. Again many thanks and keep up the great work."
Wendy
New Zealand
"This is an absolutely awesome product! As I have two kids that suffer from eczema I have tried many things, and this balm beats the lot. I will be buying again."
New Zealand
"Thank you! I have taken before pics and after just a few days there has been a MASSIVE difference! Will be buying more for sure."
New Zealand
"This is a great product. I am applying 4-5 times a day and can see changes within 24 hours. Thank you I am so grateful."
New Zealand
"Excellent product! It has cleared sores in only days. Thank you, I will be recommending you to everyone."
New Zealand
"I have been using this product since I purchased it and I can't tell you how much it has helped my daughter with her eczema - the eczema has just about gone! Thanks."
New Zealand
"Excellent. It is the first lotion that has worked on my "itchies" for 50 years!"
New Zealand
"Excellent, and the balm is so soothing on sore dry skin - thank you!"
New Zealand