Recent Media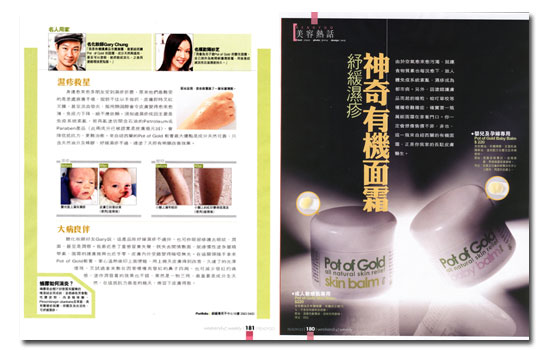 Hong Kong Weekend Magazine
Health and Beauty Section

English Translation:
"Nowadays an increasing number of people suffer from eczema. What makes this condition so painful is the itchiness of the inflamed area which leads to scratching or rubbing until it bleeds and the condition becomes more severe. Implementation of steroids can treat the symptoms in the short term, but in the long term it lowers the skin's immunity. This makes the skin much more fragile, meaning a reliance on steroids is not ideal. The main cause of eczema is due to a dysfunction of the immunity system. The use of a variety of medications without professional holistic advice often only worsens the situation, especially if these products contain petroleum or parabens (these two chemicals have been identified as possible carcinogens and linked to skin cancer). These chemicals also lower the body's immune system and therefore make recovery harder. With Pot of Gold skin balm, which is made in New Zealand using all natural ingredients, contains only natural vegetable oils and beeswax to relieve the uneasy and uncomfortable distress from eczema. It has been shown in many cases that when Pot of Gold skin balm is applied regularly to the inflamed area for seven days there are marked and distinct improvements to the skin."
"By listening to the expert cosmetic advice from Gary Chung, my skin was softened and it even worked on my lips. Recently, because of illness, I lost the energy and drive to use a beauty mask. I also did not use any other kind of products for protecting my skin. This made my skin become dark and dry. However, Pot of Gold saved me! I simply applied a little to my face before bed. After using it for a couple of days my skin returned to being smooth and shiny. I also applied it around the nose where I felt itchy and it improved a lot, and it can also be used as a lip balm to soften lips."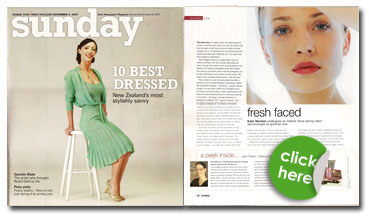 Sunday Magazine
A Peek Inside
click image to read this article

"I cant live without my Trilogy Hydrating mask and Pot of Gold
skin balm - both all natural and the most incredible products ever."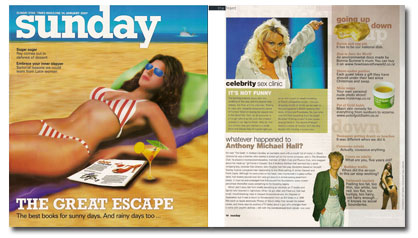 Sunday Magazine
Going Up
"Pot of Gold balm - skin remedy for everything from sunburn to eczema."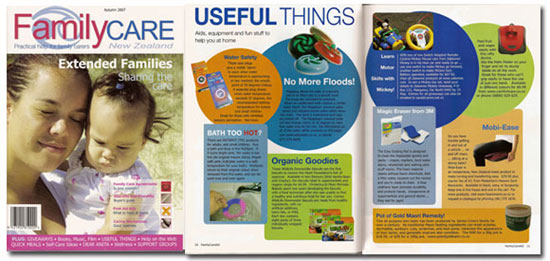 Family Care
Useful Things
"This healing balm can treat eczema, dermatitis, sunburn, cuts, scratches, and bed sores; minimize the appearance of liver spots; and generally improve skin condition."